Forme
UX/UI Design, Brand Identity


Duration
︎︎︎ October - December 2020

Role
︎︎︎ Research, Visual Design, and Prototyping

Tools
︎︎︎ Figma, Adobe XD, Illustrator

Team
︎︎︎ Irene Li, Amy Liao and Sam Yang
Project Overview
To design a smart device that will solve an existing medical issue in today's age. It should offer utility and enhance the everyday lives of individuals with the help of a partnering app.
The Problem
Office workers and students typically sit an average of 6+ hours a day with little to no breaks. Bad posture has become one of the most common health problems that people struggle within their everyday lives. When left untreated, poor posture can lead to greater risks that affect people of all ages. With the current climate of the pandemic forcing workers and students to work from home, it has resulted in even higher rates of back pain.
---
The Solution ︎︎︎
Forme is a smart device created to build better posture habits. Paired with the companion app, it alerts users when their sitting posture needs to be fixed.
Phase 01: Research ︎︎︎
Conducting research to understand the pain points and needs of our target audience.
Initial Research
Firstly, we had understood how our design problem was relevant within today's climate and research existing solutions on the market. By creating a Competitive Analysis, we gained a deeper understanding of the current market and pinpointed major pain points. A PACT analysis was to analyze the daily factors affecting our target audience and allowed us to create a solution that was catered to our audience.

Narrowing down the target audience, we deteremined that our users with bad back posture would spend a majority of their time sitting at their desks for work/school. These users would typically be in post-secondary or entering the professional field, in their 20s-40s.
Phase 02: Visual Identity ︎︎︎

Applying an visual system as the face of the brand.



Visual System
We wanted our brand's visual identity to express a bright and friendly feeling while still looking professional. Through vivid colors and light-hearted illustrations, we created a welcoming tone for users.
Branding Campaign
To promote Forme, our team designed a website, social media ads and posters to reach a larger audience in various environments. The website would act as the main marketing asset and central platform for users to get additional information on the product and app.
Phase 03: The Device ︎︎︎


Visualizing the solution through device prototypes.
Our smart device focuses on comfortability by considering cushion material, massage features and sensor pressure points to track the user's posture.
Non-Invasive and Easily Adaptable

Forme comes with 3 types of attachment methods: magnet, adhesive, and chord. For maximum comfort, the device itself is a cushion and has flexible backing, making it easy to attach to any type of chair.

LiDAR and Pressure Sensor Technology

Pressure sensors are used to measure the amount of pressure that is being applied when the user is leaning on the device. This tracks the user's position throughout the day. When not leaning on the device, the LiDAR sensors work to create an in-depth scan of the user's posture. When connected to our companion app, this data is used to notify the user that they need to fix their posture.
Phase 04: Wireframes︎︎︎
Creating a companion app that works alongside the smart device.

User Flow Chart
Our team began creating a user-flow chart to indicate the different interactions that would be taken. This helped to us to plan each page of the application and work towards the final interface screens.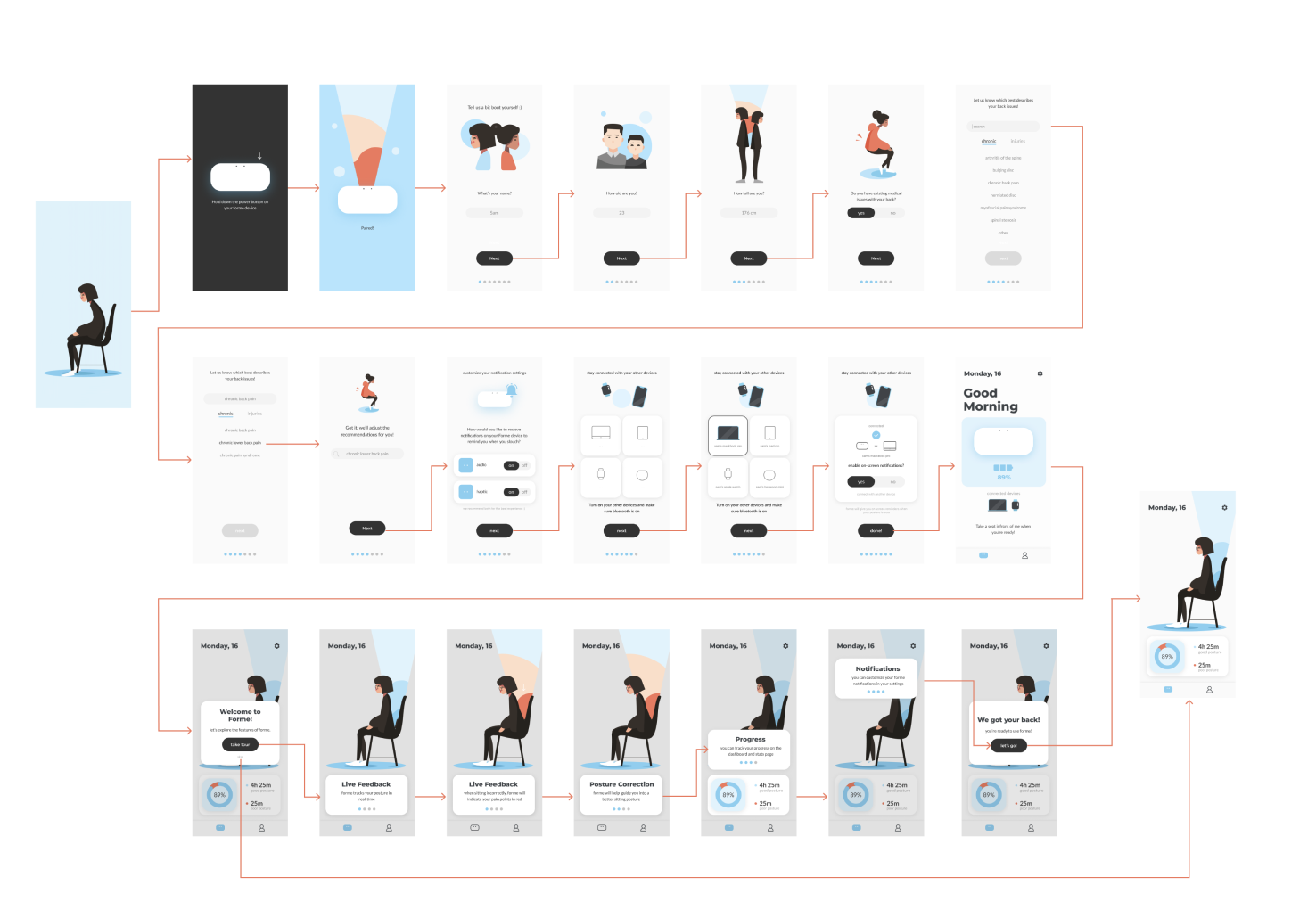 Phase 05: Forme App ︎︎︎
A finalized app that is paired with the Forme device to track and improve user's posture.

No matter where your workspace is, simply pair your device with the app.


The app guides the user through a simple onboarding process where they input information, connect their forme device and other preferred devices for a seamless experience.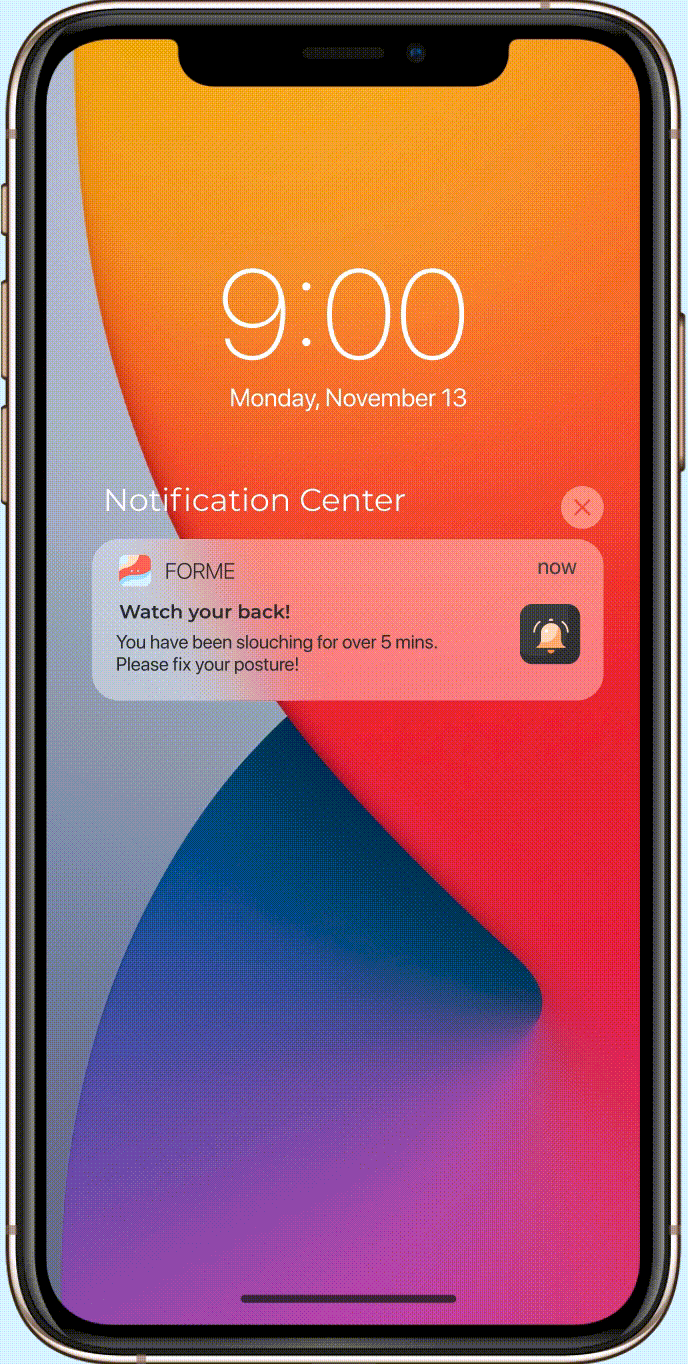 Correct your posture in a matter of seconds.
Once the device is connected to the app, it's liDAR and pressure sensors are able to detect the user's sitting position in real-time. When improper posture is detected, it will notify the user and the live feedback feature will pop-up to guide them to perfect posture.
Add and customize your reminder alerts.
Users are also able to set their own notifications to be easily recognizable through custom reminders.
Track your overall progress and posture habits
Daily stats are provided for users to observe their posture habits. It will display current posture habits, total seating time, seating periods, and good vs poor posture. The trends page provides users with their posture habits over longer periods.