Kin
UX/UI Design, Brand Identity
Duration
︎︎︎ January - April 2021

Role
︎︎︎ Research, Visual Design and Prototyping

Tools
︎︎︎ Figma, Illustrator

Team
︎︎︎ Sasha Shehryar, Meagan Malixi, Margaret Bi

Project Overview
To create a tablet-based app to connect seniors living at a long-term care home with their family members. The app should enhance the everyday lives of these individuals and allow for easy navigation for both audiences.
The Problem
Many seniors in long-term care homes are finding it increasingly difficult to regularly communicate with their family and to motivate themselves to take care of their own wellbeing. With the current pandemic, it has made communication even harder for these individuals and placed a burden on family members to reach out more.
---
The Solution ︎︎︎
Kin is a communication-based app that aims to improve senior mental health, communication and productivity.
Phase 01: Research ︎︎︎
As a family-focus app, research was done to understand the larger audience.
Initial Research
Due to the larger target audience, an P.A.C.T Analysis was done to determine the needs and concerns of the primary and secondary audiences. A Benchmark Analysis was done to see what needed to be improved on within the market. The MOSCOW Method was done to determine the goals and intentions of our application. This allowed us to understand what concerns to focus on throughout the process of designing.
User Personas
User personas were created to understand the different scenarios our senior and family members may encounter in their everyday lives. These were then applied to specific User Scenarios which helped us to focus on the features and interactions.
Phase 02: Wireframes ︎︎︎
Visualizing our user's interactions through wireframes.
System Map
After creating user scenarios, these interactions were translated into different pages of the application. By creating a system map with each intended feature, it helped us to map out the entire application and refer back to it when designing initial wireframes.
Initial Wireframes
We began building the initial wireframes of the interface and mapped out different features that needed to be considered through a family member user vs. a senior user.

Phase 03: User Testing ︎︎︎
Testing the app with potential users to study their behaviours and see if it has fulfilled it's objectives.
User Testing Plan
We reached out to testers ranging from 14-70 years old, to consider both spectrums of our target audience. Before conducting user testing, we came up with a User-Test Plan with proposed scenarios and objectives. Testing was done through Zoom and in-person sessions with observations being recorded for further analysis. Post-testing questions were asked for additional feedback on the overall function and appeal of the app. After the interviews, we analyzed the results and applied the proposed changes based on our user's feedback.
Proposed Changes
A majority of our feedback was on the complexity of the home navigation and adjusting text/buttons larger for the senior user.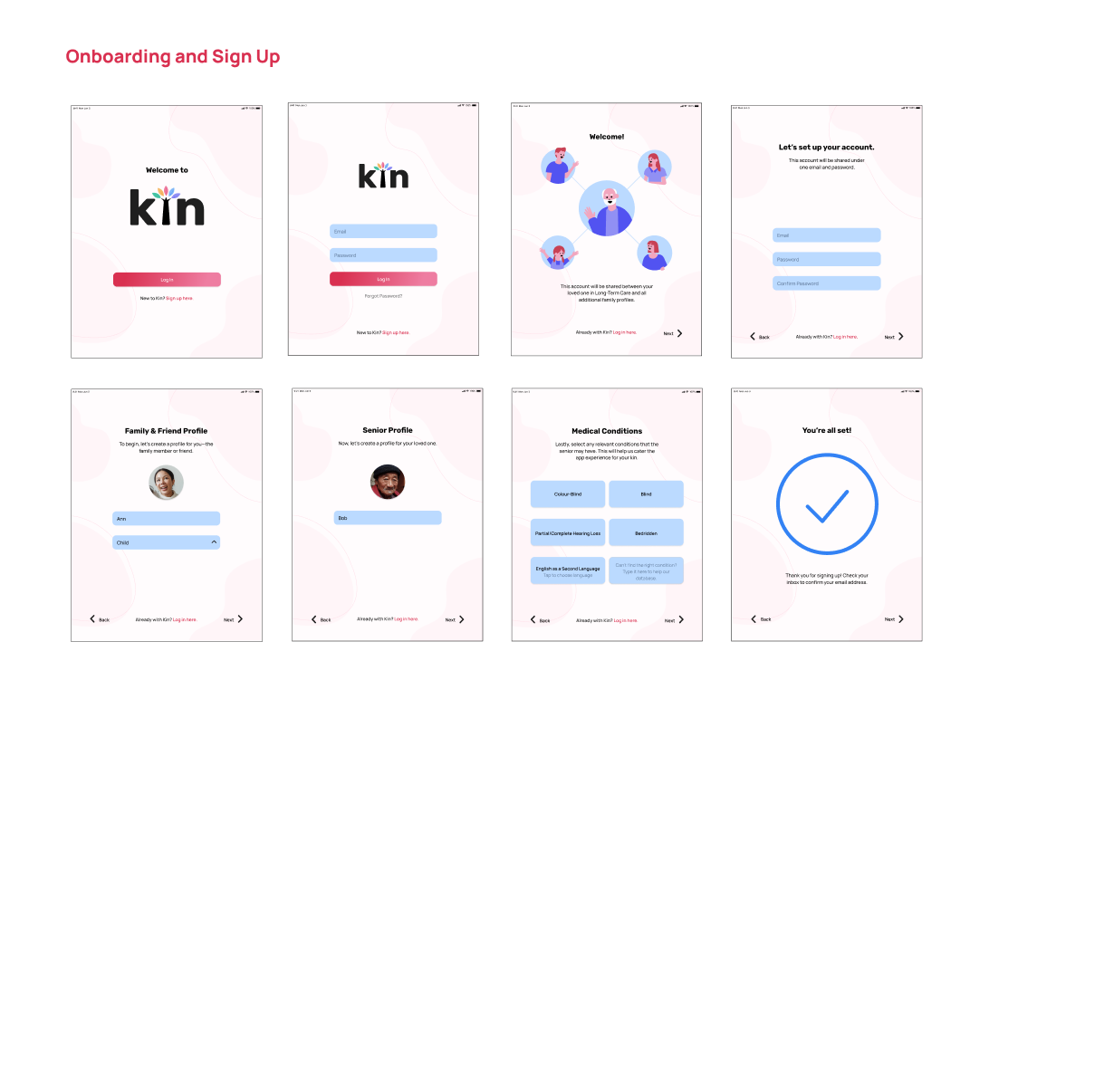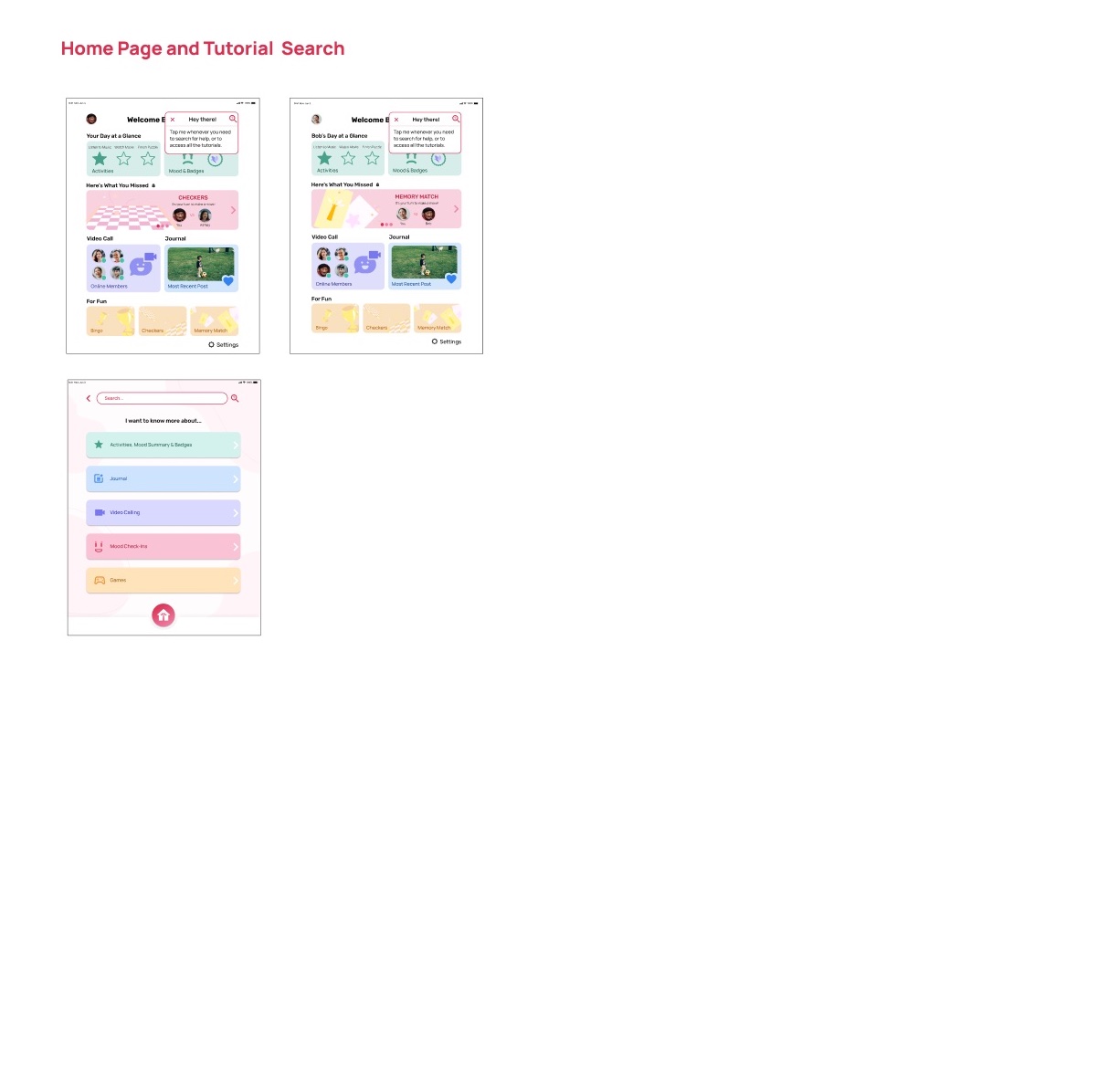 Phase 04: Branding ︎︎︎
Designing a accessible visual identity and applying it to promotional content.
Style Guide
Making sure that our visual design was accessible was crucial as we wanted to deliver an enjoyable experience for our senior audience. This meant that we had to consider color blindness and vision impairment conditions.

The color scheme used throughout the application was carefully considered to be accessible for senior members with color blindness. Typography choices were made for clear legibility and contrast for our senior audience to easily read.
Promotional Website
Our team designed a website as a platform for new users to learn more about Kin. Here, it informs the users of how each feature is used and how to download the app.
Phase 05: Kin App ︎︎︎
A finalized app aimed to build better connections between senior and family members.
Playing: A family user onboarding process.

Easily access a shared account with your senior and family members.


The onboarding is done through the family member who will create a shared account. Senior and family member profiles are provided with different features to optimize their user experience.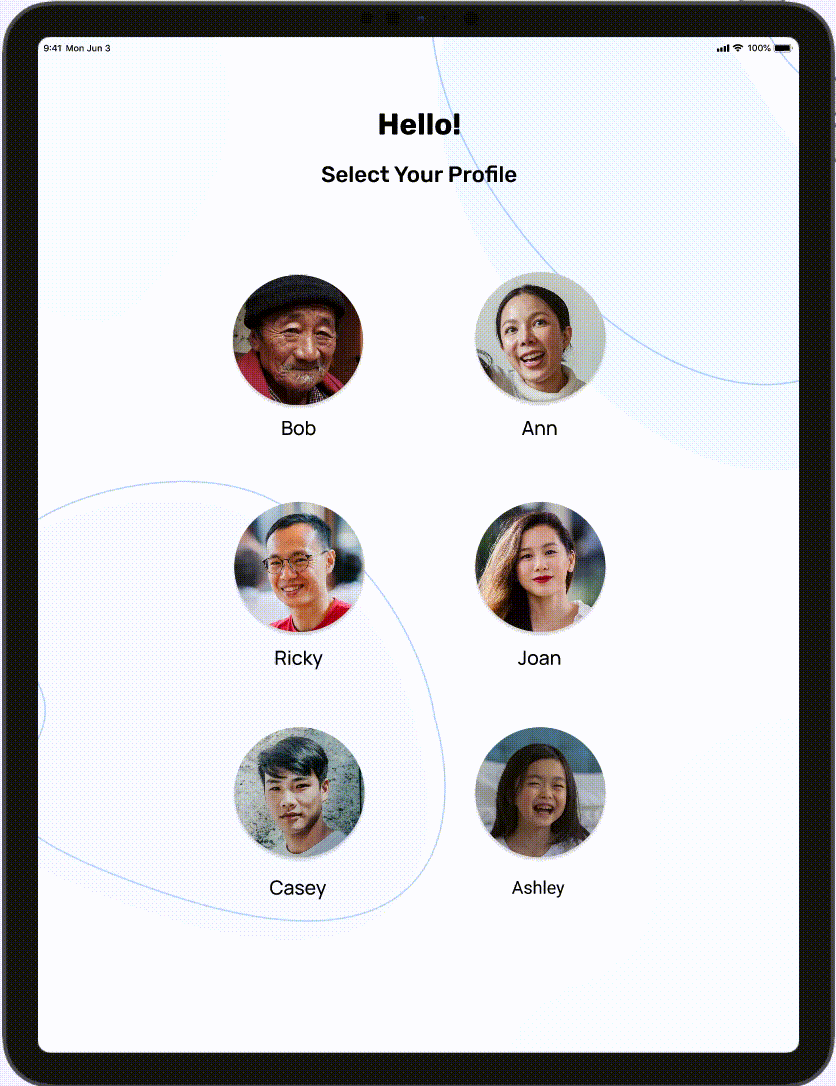 Playing: A family user mood check-in.
Check in on your senior through daily mood overviews.

Family users are provided with the daily mood and plans of the senior member to feel more connected and involved in their lives.

Seniors report their daily mood and activities and can view suggestions from Kin and their family members to improve mental and physical wellbeing outside the app.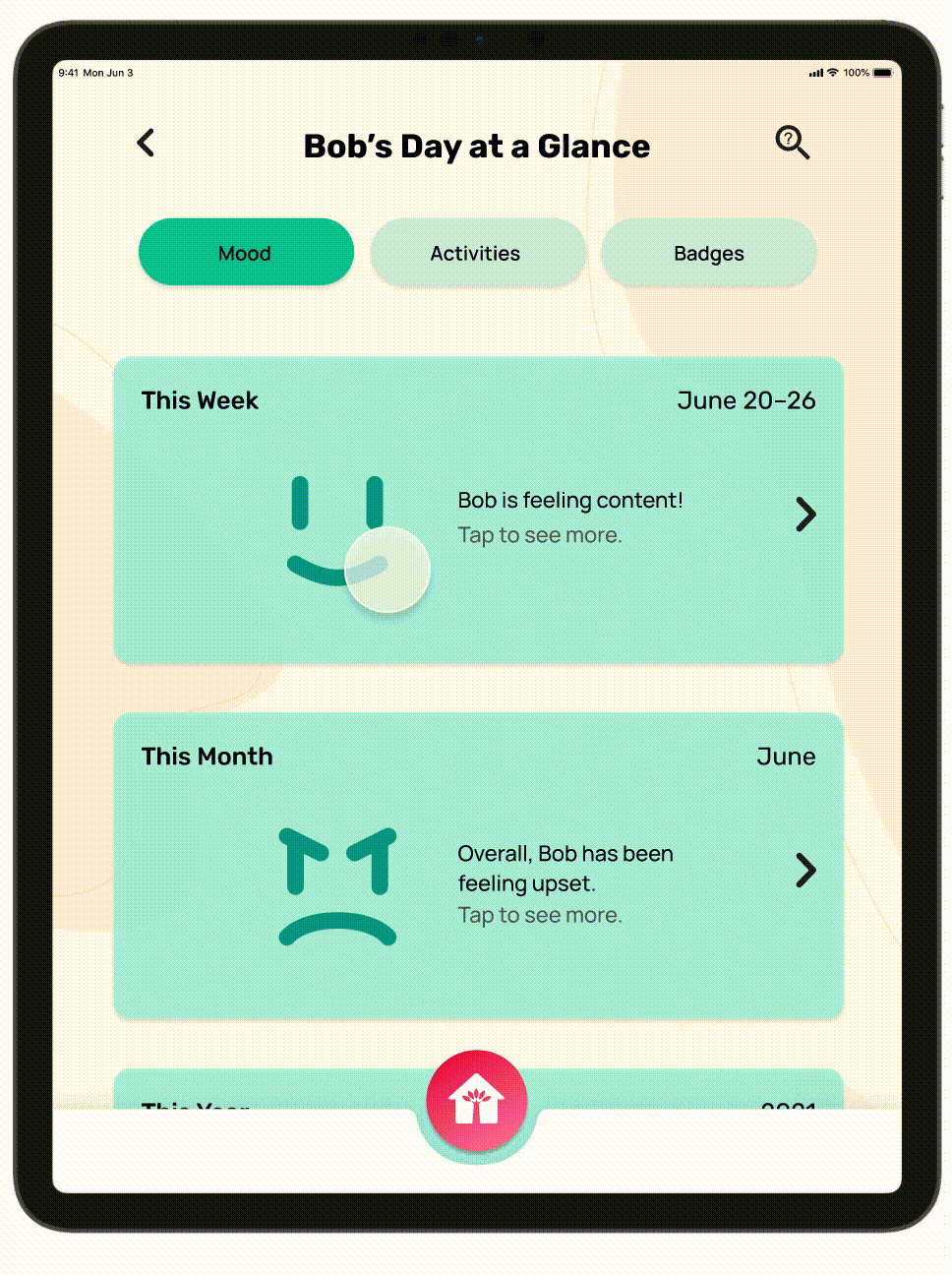 Playing: A family checking the senior's user mood and activity
Keep track of moods and activities.
Family users are provided with an in-depth overview of the senior's mood over the week, month, and year.

Seniors can edit their mood summaries and view all activity suggestions from family members.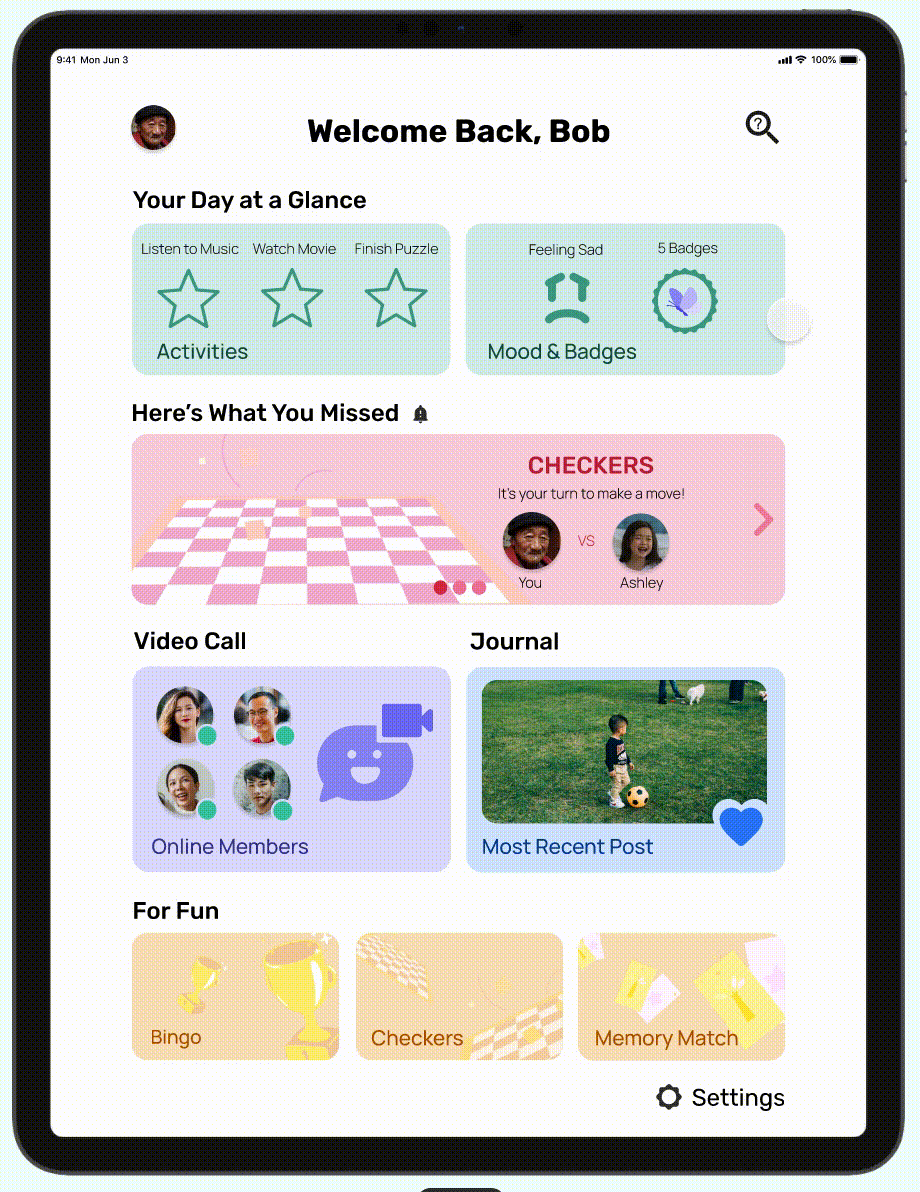 Playing: A senior checking their badge completion.
Improve mental and physical well-being through badge completion.
Seniors are encouraged to earn badges by completing activities catered to them such as playing games, writing in their journal and continuously interacting with their family.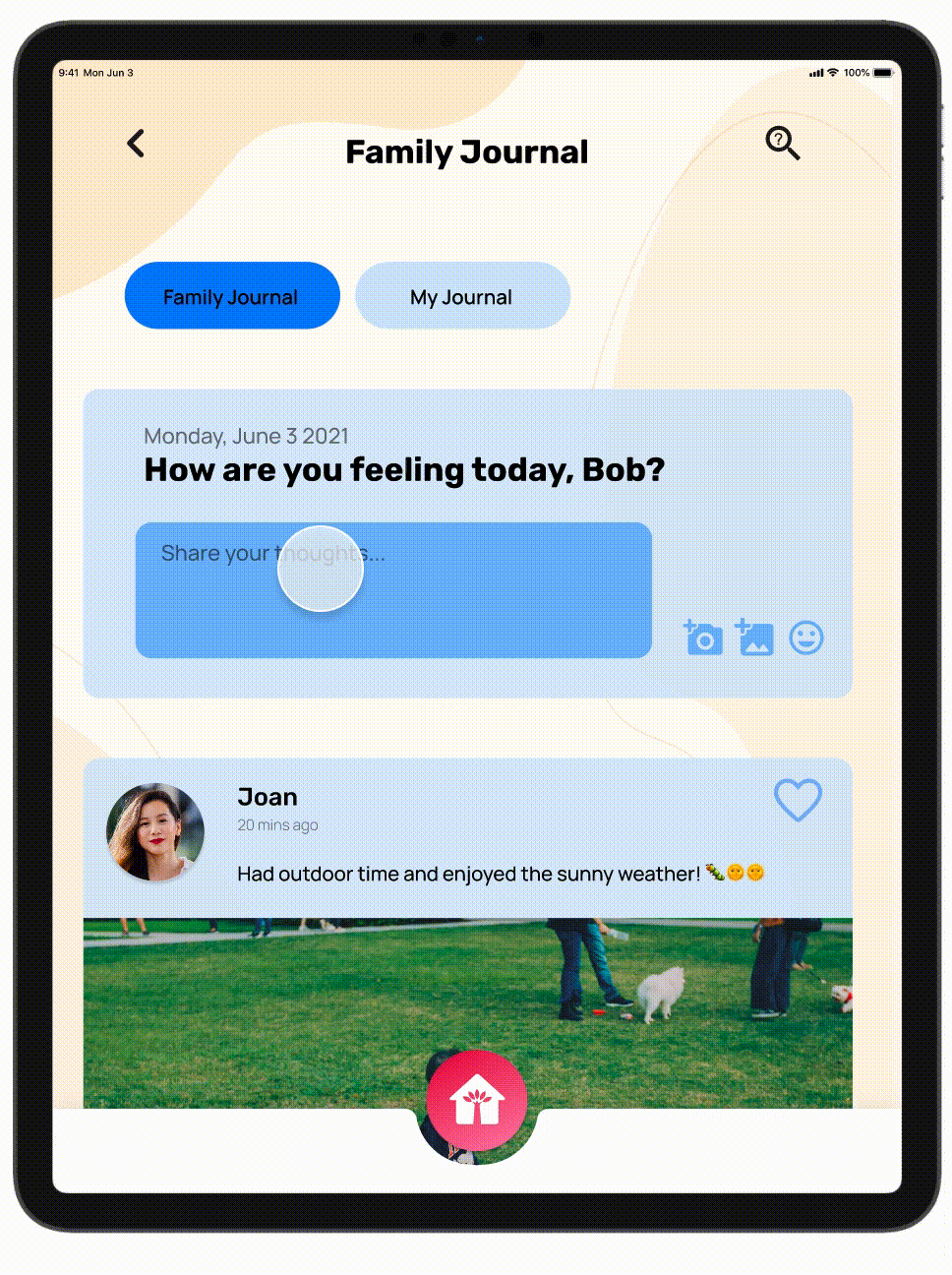 Playing: A senior sharing their own post on the Family Journal.

Stay connected through a close shared feed with family.


Family Journal allows the family and senior users to share photos and entries, allowing families to stay updated on their everyday lives.
Playing: A senior and family member playing a new match.

Have fun through family-friendly game matches.


Kin offers three interactive games: Bingo, Memory Match and Checkers. Users are able to start a new match with any members registered on the app. Time alerts can also be set by family to manage screen time of senior users.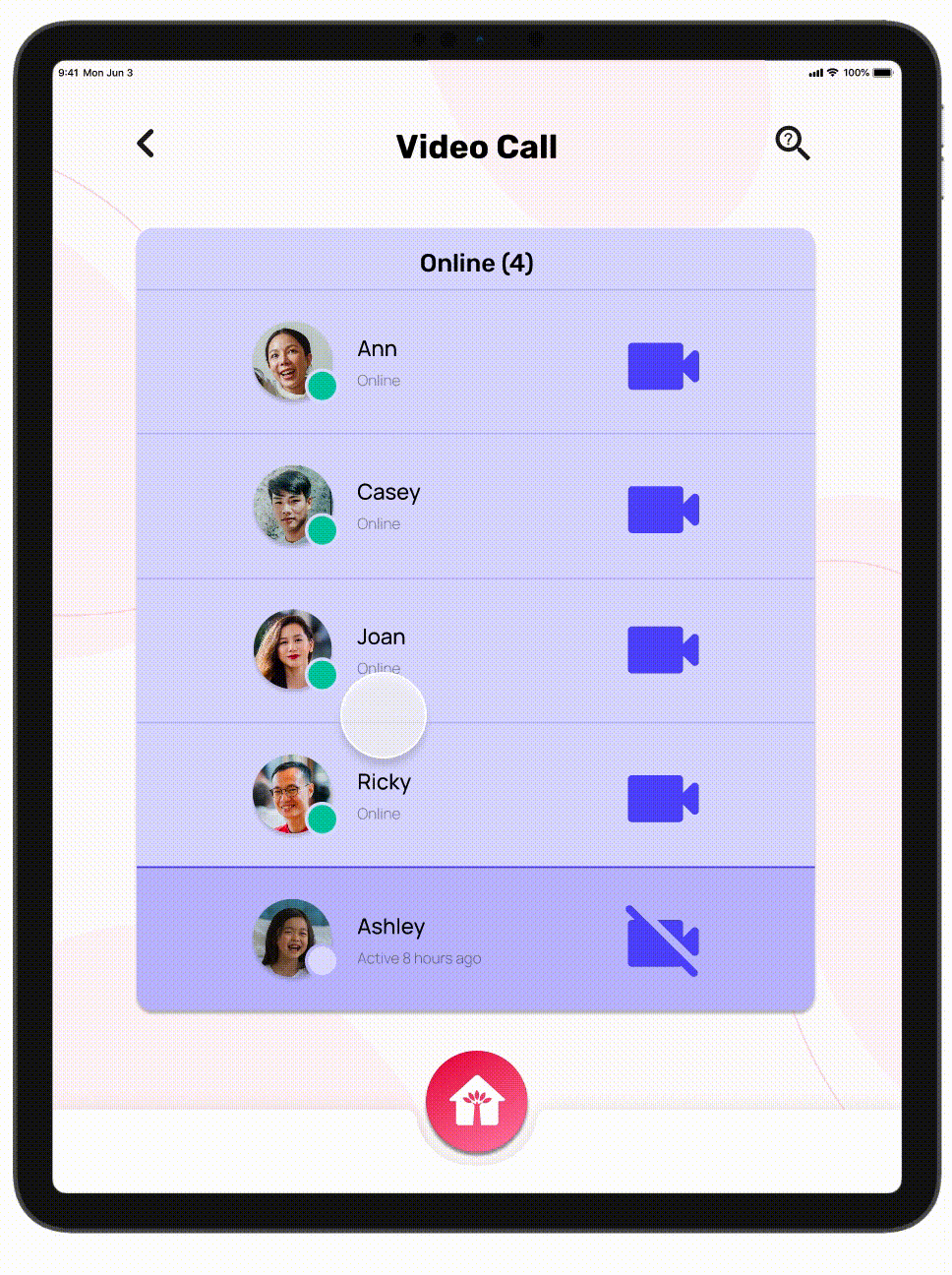 Playing: Senior and family users having a video call.

Easily catch up with family through group video calls.


Invite up to four people to video calls. A pop-up notification will appear to confirm when ending the call for senior users who may not be familiar with the feature.
Playing: Completing a tutorial walkthrough.

Learn effectively through tutorial walkthroughs.


Catered for the senior users, interactive walkthroughs are designed to help them learn the features of the app effectively. An magnifying glass icon appears at the top home screen bar, reminding users that they can access it whenever they need help. The search bar also provides answers to specific questions.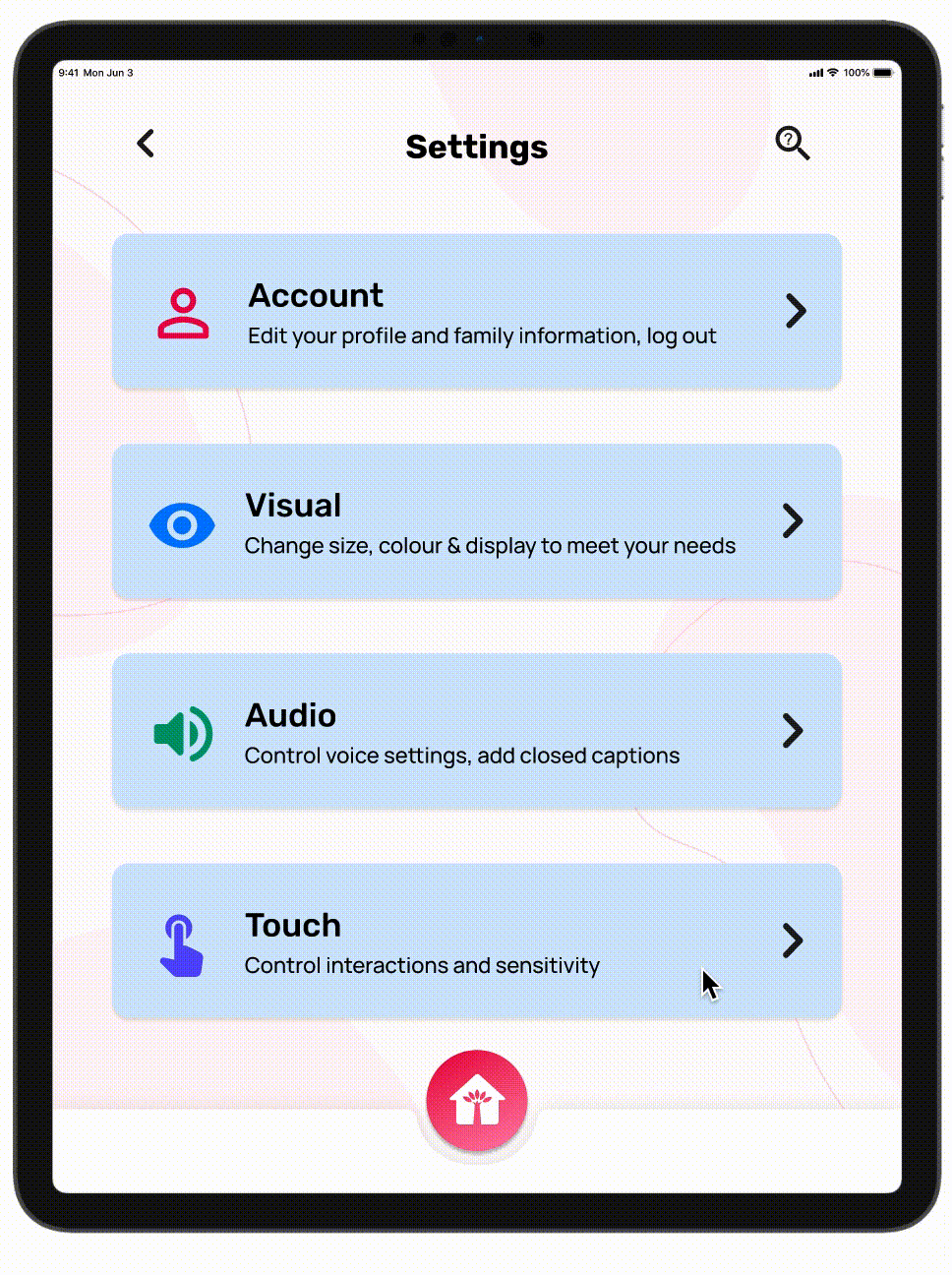 Playing: Senior user edits their setting preferences.

Personalized settings for accessibility.


Choose relevant medical conditions or preferences for your senior. Customize Kin's audio, visual and touch settings to optimize their experience.